Landtasia Certified Organic Beef - Choice Cut Styles
Beef is defined by its eleven prime cuts. These are basic sections from which roasts, steaks and other subdivisions are cut. The meat becomes progressively more tender as distance from "hoof and horn" increases. When looking at the diagram below note that the closer to the middle-back (4), the more tender the meat is as these muscles are the least worked.

There are different naming conventions for meat cuts in Australia, Britain, France and the USA. We use the Australian convention. For example, locally we use the terms Eye Filet and Sirloin whereas in the USA they might say Tenderloin and Porterhouse.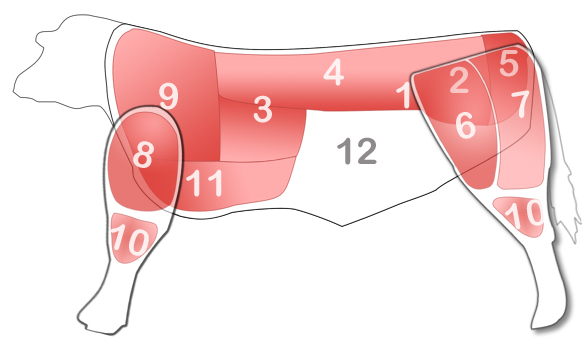 © Copyright 2007 - Landtasia Organic Foods Pty Ltd
The diagram above shows the prime sections our butcher will cut from when preparing your side of beef. The numbering sequence - from 1 to 12 - reflects what is considered to be the most gourmet to most budget oriented cuts of meat. The typical requested cuts and approximate dressed weighs from each prime section in a half side of beef are as follows:
Prime Section

Approx
Section
Weight*

Typical Dressed Cuts

1 - Eye Filet

.8 kg

Steaks
2 - Rump

3.2 kg

Roasts & Steaks
3 - Ribs

6.6 kg

Scotch Fillet Steak, Prime Rib, Short & Spare Ribs
4 - Sirloin

11.0 kg

Sirloin & T-Bone Steaks
5 - Topside

4.1 kg

Roasts & Steaks
6 - Round

3.2 kg

Roasts & Steaks
7 - Silverside

6.6 kg

Corned, Roasts & Schnitzels
8 - Blade

5.4 kg

Roasts & Steaks
9 - Chuck

25.8 kg

Diced, Premium Mince, Casseroles & Marinated Steaks
10 - Shin

2.6 kg

Osso Bucco, Gravy Beef
11 - Brisket

10.6 kg

Mince, Stews, & Sausage
12 - Organs

NA
Organ meats such as Heart, Kidney and Liver are not included as part of a side of beef order, but can be purchased separately.
As each side has a slightly different processing weight the proportional yields may vary plus or minus by a few percent.
If you are unfamiliar with some of the cuts of beef in a side, please refer to the Know Your Cuts section of our website. Also visit our Recipes section for many nutritious and delicious cooking and preparation ideas for your family, friends and pets.